ICI Meeting 2016
Diabetic Patients are at a high risk of TLR and stent thrombosis. The optimal DES to combine excellent efficacy and safety in this patient setting has yet to be identified. Dr. Pieter R. Stella, during the ICI meeting in Israel on the 5th of December 2016, gave a lecture with the title: "Reduction of DAPT in Diabetics after DES: the U-Short Registry".
The U-Short registry is a retrospective, single centre, real world registry for diabetic patients being trop-, where the latest DES including Cre8™ were used.
265 stents have been implanted in 165 diabetic patients, and DAPT treatment was given just for 3 to 6 months.
Below you can see the 1 year clinical Follow Up of the U-Short Registry.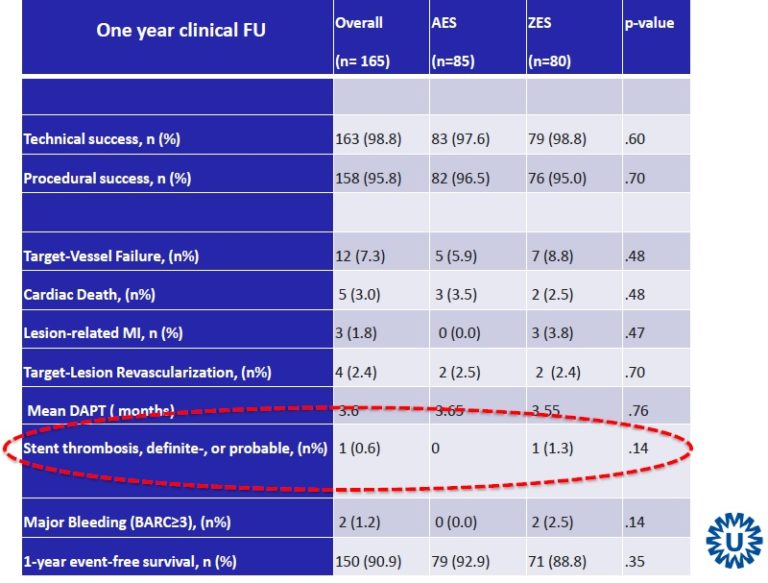 The overall positive results of the available Cre8™ literature, confirmed by the U-Cre8 study above, have led to the desire to have a more extensive and conclusive study on short DAPT with latest DES. Dr. Stella concluded his lecture by addressing the Ongoing ReCre8 Study, which is an all comer study of 1530 patients which compares Cre8™ to Resolute where 1 month DAPT is given following elective PCI.
Cre8™ is a polymer free Amphillimus™ eluting stent which combined with our Bio Inducer Surface insures a very high safety for all patients.
You can download Dr. Pieter R. Stella's presentation from ICI 2016 by clicking here.